I decided to write down some goals to focus my "summer surfing." I keep getting stuck on websites and searches for cute stuff that I probably will not ever have time to implement, so instead I need some goals to focus my summer time web surfing down time. Here are the major things I want to focus on/implement next year:
Balanced Literacy
first 20 days lessons.
2. Implement a short procedural lesson EVERY day (sort of
Ron Clark's Essential 55
style)
3. Design most instruction around projects (PBL).
4. Do NOT assign anything that I don't plan to look at, grade or use to guide further instruction (NO busywork, or 'practice' just for the sake of 'practice'). I want to do MOST of my grading authentically, standing behind the child, during class. I am the world's worst at grading papers. I get these HUGE stacks of papers that I don't have time to really spend grading. NO MORE!! PBL should help with this.
Some links I came across. . .
Four Blocks: Writing
Individualized Spelling Lists
Check out some other teacher's goals at this linky party: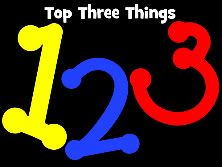 What are your goals for next year?